Shades of Art Walks Past
Mar 07, 2019
Today I registered for Art Walk Central 2019. At this point it has become a yearly tradition marking the transition from winter to spring. It's time to get serious and start working on something big. As I contemplate what to create for my eighth consecutive Art Walk piece it seemed appropriate to look back at the last seven years and the entries I created for each one.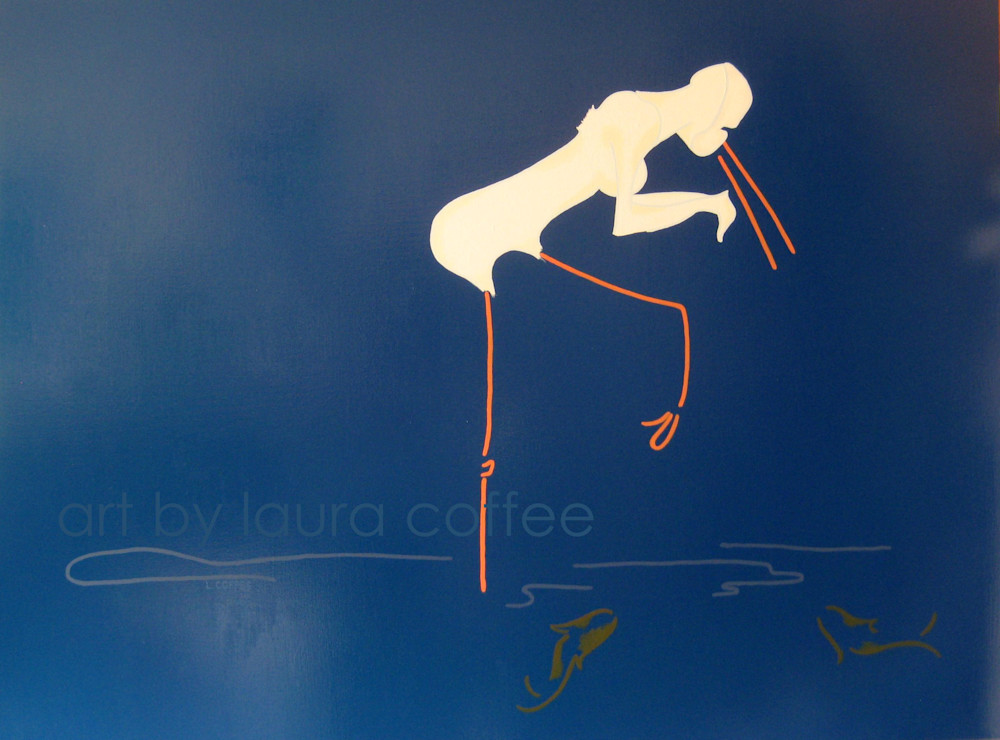 My very first Art Walk painting was a piece titled But First, a Breath. It marked a return to professional art-making after a seven year hiatus following my graduation from CMU in 2005. Unfortunately, graduating from college meant that paying bills, finding a place to live, and other day to day concerns edged out my art practice and nearly pushed it out of my life altogether. But when Art Walk Central made its debut all that changed. Here was a large-scale competition right in my own back yard - how could I not participate? The figure in this painting pauses in mid-step, perfectly still but ready to strike at any moment. I was never able to have it scanned, as the painting sold before I began documenting my work in that way. However, there is a photograph! So even though you can't get a print of this one, you can see what this first foray into the world of Art Walk Central looked like.
In 2013 my confidence was higher and I had a good idea of what I wanted to make. I had just completed my first solo show a few months earlier and a year of steady work had me feeling stronger in terms of both aesthetic and voice. This is the only time I ever submitted a piece to Art Walk that was not created specifically for the event, but instead had been created for the aforementioned solo show. It was titled ...Then the Rain Grey Curtain of This World is Pulled Back. The painting depicts a little girl in a bright yellow raincoat looking into the rain. We cannot see her face, but know that it is alive with wonder and joy. I've always loved the rain and the way it makes the entire world seem brand new.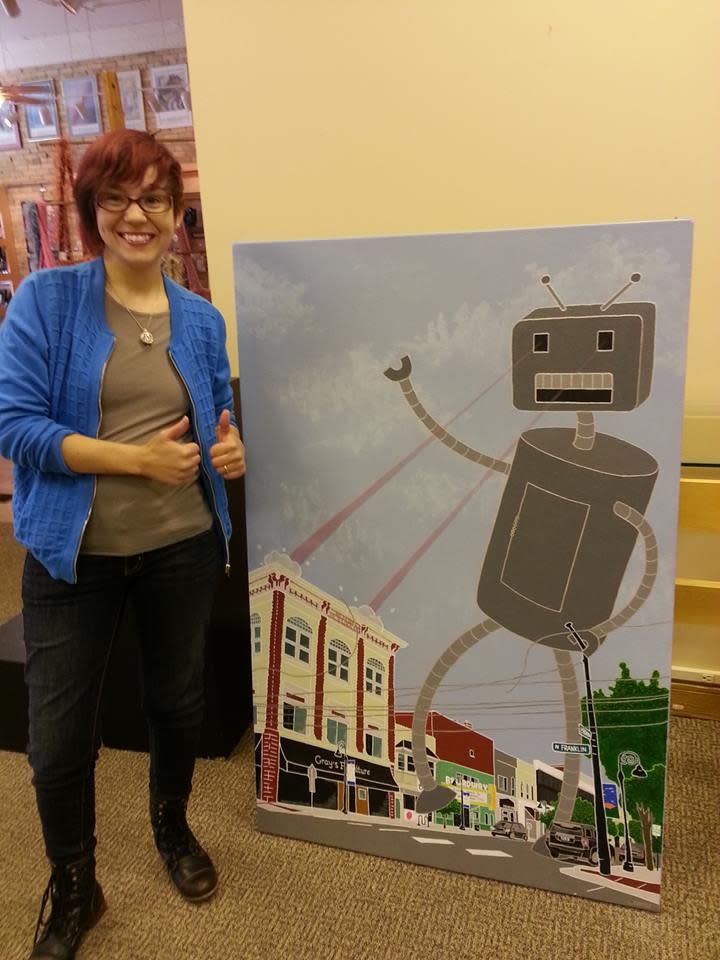 In 2014 I created my first ever large scale robot piece, When You're Alone and Life is Making You Lonely. I had been drawing and painting robots for some time, but never anything this large. The robot in question was having an absolutely lovely time destroying downtown Mt. Pleasant. It was a fun painting to create, and it was even more fun to see how people reacted to it! Apparently the people of Mt. Pleasant agreed with me, as I won second place in the People's Choice category! This year also marked the first time I was included in the Judges Top 10. Being acknowledged in this way was very encouraging and made me feel like my work was moving in a healthy direction.
Winners from the previous year are not eligible to win or participate in judging, but as I said, Art Walk has become an annual tradition for me, so I entered in 2015 anyway. I felt free to create anything I wanted since this was a non-competitive year for me. In the end I combined my love of robots, old-school science fiction, and comic books into a piece titled Nobody Knows the Troubles I've Seen. It was a ton of fun to make and I ultimately ended up entering it into Art Prize Grand Rapids where it was purchased by the venue.
In 2016 I decided to go local again with my subject matter, this time aliens got involved. Finals Week depicts an invasion of CMU's campus by a horde of robots and flying saucers. One brave student stands her ground and defends the campus against whatever may come despite the odds being stacked against her. There is such a combination of destruction, frenetic joy, and explosive activity in a single frame - it was so much fun to make! This painting may be one of my favorites, and now hangs in the office of a professor on the very campus it depicts. It was also included in the Judge's Top 10.
In 2017 I decided to explore something different and create a piece connected to a new series of works incorporating binary code. While the aesthetics of bright, flat colors, strong lines, and clean shapes are similar to my robot pieces, the content of the work was very different. It was titled ego autem ex machina (latin for "I am, however, of the machine") and doubled as a sort of internal self-portrait. It explored the same choice vs program question as many of my robot pieces, but from a different angle.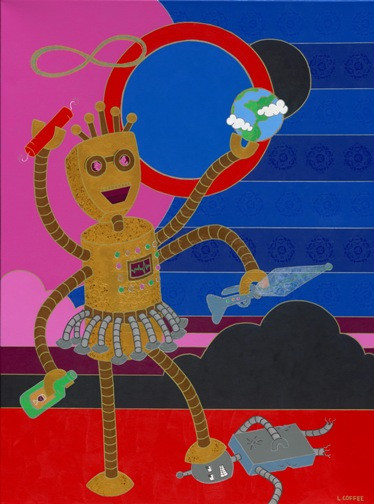 Last year in 2018 I returned to the robot theme, but decided to go for something a bit more epic - The Triumph of the Space Queen. The Space Queen is a magnificent metal monstrosity clothing herself in the limbs of her vanquished foes. Is she good? Is she evil? Whose side should we even be on here? In the end it doesn't really matter how you feel about her or her motivations - this queen is WINNING either way.
As I contemplate what to paint for Art Walk Central 2019 I'll be thinking back on all of these pieces, and many others, from past competitions. No two years, paintings, or robots are alike, and yet they all feed each other and help create what will come next. If you have any favorites from the previous seven years, or thoughts on subjects you would like to see my tackle in the future, I would love to hear about it. Making art can be a lonely thing, and knowing that your art is seen and enjoyed makes a big difference in the life of an artist. Thank you for following along with me on this journey so far.